Have you been further injured by the negligence or malpractice of a chiropractor? Call us at 1-800-ATTORNEY.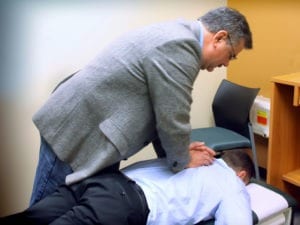 Over the years, chiropractors have helped millions of people with chronic injuries, back pain, and other issues involving spinal health concerns. Although the majority of these alternative health professionals strive to help their patients and eradicate pain, some chiropractors have been found to be negligent and careless in their treatment – leading to further serious injuries and even wrongful death.
Just like doctors, chiropractors are tasked with caring for their patients, and just like doctors, their care can sometimes fall below accepted standards. When a medical professional such as a chiropractor provides treatment which falls below the accepted standard of practice, and that poor treatment results in injury to the patient, that patient has the right to pursue compensation through a medical malpractice lawsuit.
There are two major types of chiropractic medical malpractice cases:
Manipulation that causes injury. As you might guess, spinal manipulations are serious procedures that require expert care and well-trained professionals. However, if chiropractors fail to properly diagnose a patient, fail to take down a complete medical history, or fail to correctly execute the procedure, the results can be catastrophic. A mistake of manipulation can do serious harm, exacerbating injuries, creating new injuries, and causing permanent injuries or chronic pain.
Failure to diagnose. Unfortunately, some chiropractors will misdiagnose a patient's symptoms as health conditions that are caused by spinal misalignment or other back problems. However, these symptoms could be signs of very serious health concerns, such as heart attack, stroke, bone fractures, or cancer. Some chiropractors will fail to diagnose serious conditions such as blocked circulation, spinal injuries, etc.  If a chiropractor continues to wrongly treat a health problem, he or she could be delaying a correct diagnosis and causing irreparable harm by delaying much-needed treatment.
What are some examples of chiropractor malpractice?
A chiropractor manipulates a woman's back multiple times after misdiagnosing her with nerve compression. In reality, the woman suffered from a broken back. His manipulations cause permanent damage.
A chiropractor unsuccessfully treats a woman's back pain for several months without improvement and without referring her to a medical doctor. When she finally stops treatment and consults a physician, doctors discover a large malignant tumor.
A man went to a chiropractor in need of a neck adjustment. The chiropractor executed the procedure improperly during the rotation of the spine, causing a stroke in the patient.
These are only a few examples, but chiropractic medical malpractice cases are unique and deserve to be looked at by a competent personal injury attorney. Our Dallas lawyers offer free consultations on Texas chiropractic malpractice cases, and we encourage you to call us at (214) 651-6100 today to discuss the legal options which may be available to you.
Speak With a Dallas Personal Injury Attorney For Free
The attorneys at Rasansky Law Firm are happy to speak to you about your potential case free of charge. If we can help with your claim, we'll do so for no out-of-pocket cost to you. Call us 24/7 at (214) 651-6100, or toll-free at (214) 651-6100.