Injured in an armored car accident that wasn't your fault? We get our clients the compensation they deserve!
An armored car may not look that big but they are very heavy. In fact, they often weigh a massive 55,000 lbs. Get in a car accident with one and chances are high that you are going to be seriously injured.
Because of their design and weight, armored cars are extremely dangerous vehicles and require both skilled maintenance and drivers to be operated safely.
For example, because of their weight, armored trucks are difficult to stop. Maintaining the brakes and tires of these vehicles is critical. And when an unqualified or improperly trained person drives one of these vehicles, they are more likely to lose control or break traffic laws resulting in serious accidents. Unfortunately, these accidents often involve severe personal injuries or even death. If you or a loved one have been injured in an accident with an armored car, call us. We can answer all of your legal questions and help insure you get the compensation you deserve.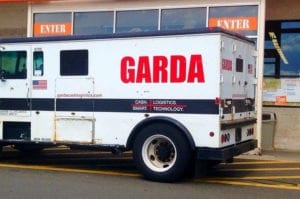 Liability in an armored car accident.
Armored trucks are typically owned and operated by big companies like Garda, Loomis, Dunbar and Brinks. In addition to maintaining the safety of their vehicles, these companies are responsible for the negligent acts of their employees, the drivers.
Companies can be held liable for accidents caused by improper or inadequate inspection and maintenance. For example, if a company fails to inspect and repair worn brakes and that causes a driver to have an accident, the company can be held liable.
Allowing unlicensed, unqualified, improperly trained, or suspended operators to drive these vehicles is beyond reckless. Companies have a duty to properly train their drivers, make sure they hold valid licenses, and ensure they follow all traffic laws. Companies can be held liable for accidents if they fail to do this.
Common injuries from armored vehicle car accidents.
Common injuries suffered in an armored car accident include:
Death
Head injuries including concussion and skull fractures
Whiplash and soft tissue
Neck and back including herniated discs and spinal cord damage
Loss of limb
Internal injuries
Cosmetic injuries
Dental injuries
If you've been hurt in any accident, make sure you see the proper specialists and have all your symptoms addressed. Many of these injuries may be permanent or have long term implications.
Shocking allegations of untrained drivers and unsafe equipment at Garda.
A recently unsealed federal complaint suggests the drivers of many armored vehicles are poorly trained. Some armored truck companies even employ drivers with suspended licenses! In addition to these issues, many armored trucks on the road are improperly maintained.
Garda World is a Canadian company with approximately 63,000 employees and is one of the largest armored vehicle companies in the United States. Garda provides armored car, security guard, and cash logistics services throughout the country. We recently learned some shocking allegations involving the company.
A federal court complaint alleges that in an internal audit of 100 Garda armored car drivers, a significant percentage did not have a valid license and/or had their licenses previously suspended. One driver had eight accidents yet was stilling driving for the company! The complaint also stated that Garda doesn't comply with post-accident drug screens. Additionally, the complaint alleges the condition of Garda armored trucks was just as bad as their drivers. The trucks are allegedly not properly maintained and that DOT safety rules are not followed.
Last week, a driver in Mableton, Georgia, said Garda's "trucks are old and breaking down, a safety risk." Another driver confirmed by stating, "trucks are constantly breaking down." And yet another told Glassdoor, an employee rating website "The worst of it being the trucks. They would constantly fall apart and break down, trucks would be in minor wrecks and they would spend the money to fix them on something else, leaving them damaged."
Though the allegations above are concerning Garda, we suspect that similar situations occur daily with other cash logistics companies.
What to do if you get injured in an armored car accident.
Obviously, getting emergency treatment is your first priority. Once your injuries are stabilized, Contact your armored car lawyer right away. Why? Armored cars often have specialized monitoring equipment but the data from that equipment is not saved for long. These monitoring systems include sophisticated video cameras, GPS tracking, and a "black box" that monitors the speed and operation of the vehicle. Unfortunately, unless your lawyer acts quickly, the video and GPS evidence may not be retained for very long.
When choosing your lawyer make sure he/she understands the unique aspects of armored car cases and that they have both the time and resources to get you properly compensated for your injuries, property damages, lost wages, and other losses.
Headquartered in Texas, we are dedicated to fighting for the rights of Texas residents and beyond. We have handled serious injury cases nationwide and our armored car personal injury lawyers understand the complexities involved in these types of cases. We have the experience and resources to hold the parties at fault for your injuries accountable for all damages that result from an accident.
After a serious accident, money is often tight. Getting the best legal representation shouldn't mean you have to go in debt.
When you call on our Dallas armoured car accident attorneys, we will listen to the facts of your case and explain exactly what your options are, FREE of charge. If we end up working together, we will operate under a contingency fee arrangement, which means you will owe us nothing until/unless we win your case.
Have questions? Call us for free!
If you've been hit by a drunk driver in the state of Texas, you need stellar legal representation to secure enough compensation for you to heal and rebuild your life. Call Rasansky Law Firm today at 877-405-4313 for a free case evaluation with one of our highly qualified and experienced Texas drunk driving accident attorneys. Alternatively, you can email us for free by filling in the contact form on this page. We look forward to helping you get the justice you deserve.
Speak With a Dallas Armored Car Accident Attorney For Free
The attorneys at Rasansky Law Firm are happy to speak to you about your potential case free of charge. If we can help with your claim, we'll do so for no out-of-pocket cost to you. Call us 24/7 at (214) 651-6100, or toll-free at 877-405-4313.