Defective seat belts, airbags, tires, and other safety features can greatly contribute to injuries resulting from a crash.
Each year, more than 30,000 Americans lose their lives on our roads. Though there are numerous causes of car accidents, a vehicle' design and build can go a long way in ensuring that an occupant is kept safe – especially when in a crash.
Essentially, when a defective vehicle or defective safety features cause the occupant harm (or further harm in an accident), the victim can file a claim against the manufacturer of the vehicle or auto part in an effort to recover compensation for the monetary losses sustained. This would be an example of a product liability claim.
The biggest safety issues.
Vehicle defects can be as varied as they are common. Most of the time, defective automobile claims involve the following: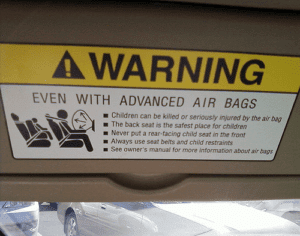 Tires – A tire blowout is one of the most-common causes of a vehicle-related product liability claim. These type of defects usually cause tread separation at high speeds, causing the car to veer out of control. In a few short seconds, the driver may be unable to regain control of the vehicle, ending in a crash.
Airbags – Airbags lessen bodily impact moments after a crash. However, defective airbags have been known to not open, offering no protection to the car's occupants leading to head, neck and spine injuries. Just as scary, the Takata airbag recall mentioned earlier in this article was due to the risk of these airbags exploding and sending deadly shrapnel into the driver. This defect has been linked to at least eight deaths and 160 injuries so far, and the number is expected to rise.
Seatbelts – Manufacturing defects can cause a seatbelt to fail, or have so much slack that they're ineffective during accidents. This may cause the car's occupants to be flung out of their seats, compounding their injuries and reducing their chances of survival.
Vehicle rollovers – This is a very common cause of serious injuries – especially for those who drive SUVs and pickup trucks. Rollovers are caused by cars having an unsafe or exceptionally-high center of gravity. Many manufacturers simply do not take the risk of rollover accidents into enough consideration when designing a vehicle.
Roof crushes – Roof crushes are common causes of neck and head injuries in rollover accidents. This is usually the result of using poor quality materials to construct car roofs, or not installing pillars or poles to give the roof adequate strength to prevent a collapse in the event of a rollover.
Fuel fires – A vehicle's integrity shortly after a crash can mean a world of difference. If the car's fuel tank was improperly designed, it's easier for a fuel leak to occur, causing the car to go up in flames.
Accelerator pedals – There have been incidents where accelerator pedals remain compressed, resulting in runaway speeds that cannot be mitigated by compressing the brake pedal.
Crashworthiness.
The term "crashworthiness" refers to the ability of a vehicle to protect its occupants during a collision or impact. Crashworthiness primarily focuses on the "second impact" of an accident, which refers to the occupants colliding with the interior of the vehicle as the result of the motor vehicle accident.
Automobile manufacturers have a legal duty to design and build a vehicle which is as safe as is reasonably possible. When a manufacturer fails in this responsibility and someone is injured as a result, the victim has the right to seek reimbursement of damages from the automaker. Evidence is key in these types of cases, so be sure to provide your attorney with as much information as possible during your initial consultation.
The era of the automobile recall.
While there are staggering numbers of recalled vehicles every single year, 2014 and 2015 were off the charts. You likely heard about the GM ignition recall which got the ball rolling. There was also a massive Takata airbag recall which affected at least 24 million vehicles, and could eventually be expanded to 90 million! In total, there were more than 63 million total vehicles recalled in 2014 alone.
The majority of automobile recalls can be attributed directly to claims filed by people just like you. While the automaker will likely not take an individual's complaint or claim seriously, once you hire an attorney, they know you mean business. Through a defective car accident lawyer, you may be able to recover the money you need to pay related expenses (property damage, medical bills, lost wages, etc). Additionally, by bringing a claim, you may be helping to prevent similar injuries from occurring to countless others in the future by forcing the company to make sweeping safety changes.
Your next step.
Catastrophic injuries due to accidents caused by defective automobile parts can permanently alter your life. Injuries such as broken bones, whiplash, internal bruising, head trauma, bleeding, paralysis, nerve damage, burns and spinal cord injuries will all necessitate hospitalization, treatment and rehabilitation. This costs a lot of money that most of us don't have lying around. Why should you have to pay for someone else's mistake? This is where our law firm can help.
Rasansky Law Firm works closely with health care planners, economic specialists and other experts to help prepare a solid case. We do our very best to ensure that you get the justice and payout that you deserve to enable you to resume your life. Please get in touch with Rasansky Law Firm by calling (214) 617-1886 for your free consultation today.
Speak With a Dallas Personal Injury Attorney For Free
The attorneys at Rasansky Law Firm are happy to speak to you about your potential case free of charge. If we can help with your claim, we'll do so for no out-of-pocket cost to you. Call us 24/7 at (214) 617-1886.