If you believe medical negligence led to your child developing cerebral palsy, call our Dallas Cerebral Palsy Attorneys at (214) 651-6100 for a FREE case evaluation.
Cerebral palsy is a birth injury caused by damage to the developing brain, and is often linked to medical malpractice.
Every year, more than 10,000 babies are diagnosed with Cerebral Palsy in the United States. This debilitating condition commonly causes mental, physical, and emotional disabilities in children. Many babies who suffer from Cerebral Palsy require extensive and costly medical treatment well into adulthood. Even though there are a variety of beneficial treatment options available for sufferers, they come at a significant cost.
What causes cerebral palsy? Most people have a general understanding what cerebral palsy is, but they do not always understand its true cause. Often times parents are told their child has developed cerebral palsy and they accept it as simply an unfortunate occurrence with no known cause. While this may be true in a few cases, the cause of cerebral palsy is most-often a brain injury that occurs during pregnancy, delivery, or shortly after birth.
Many children who are diagnosed cerebral palsy suffered brain damage due to the negligence of a medical professional during labor or delivery. We hold negligent medical professionals financially responsible for your child's injuries and may be able to help you get the compensation your child deserves.
Our Dallas cerebral palsy lawyers have over 65 years of combined experience with birth injury cases, and have recovered some of the largest compensation awards in the State of Texas.
At Rasansky Law Firm, we work diligently to provide aggressive and effective legal representation for our clients to ensure they are in the best position possible to protect their legal rights and get the justice they deserve. We strive to help families obtain full and fair compensation to alleviate both the immediate and long-term costs of care. If your child suffers from Cerebral Palsy as a result of medical malpractice, contact our Dallas Cerebral Palsy attorneys as soon as possible to discuss legal options available to you.
What is Cerebral Palsy?
Cerebral Palsy is a set of non-progressive motor conditions that cause physical disabilities in newborns and growing children. This condition is permanent and has no cure. Although, it is important to know that with therapy, children may regain the ability to perform many tasks. Cerebral Palsy is a condition that is caused by damage to the area in the child's developing brain that controls their motor skills.
The term cerebral is used in the name to describe the region of the child's brain that is impacted by the condition. Cerebral Palsy primarily impacts the cerebrum, though other regions of the brain can also be harmed as well. Palsy is used to describe the spastic movements that people with this condition have.
People who have Cerebral Palsy can suffer an array of disabilities. Some people will only experience minor impairments while others may not be able to do anything on their own and may have to rely on medication and assistance around the clock.
Cerebral Palsy can be a costly condition to maintain. When children suffer from Cerebral Palsy as a result of medical negligence, it is important that their parents are well educated surrounding legal options available to them. Injured children and impacted families may be entitled to compensation to help alleviate the costs of care and other related expenses.
Causes of cerebral palsy.
In most cases, children who have cerebral palsy were born with it, quite often as the result of a lack of oxygen to the brain or body, premature birth, or trauma during the delivery process. It's important to understand that just because a child is born with cerebral palsy doesn't necessarily mean that medical malpractice occurred; even under the best of circumstances, with the highest quality of prenatal care, and proper delivery procedures, things can go wrong. However, when medical malpractice is believed to be the cause of a child's diagnosis of cerebral palsy, the most common causes include:
Failure to detect and/or properly treat infections such as meningitis during pregnancy.
Failure to properly monitor the fetal heart rate during labor and delivery.
Failure to detect the existence of a prolapsed umbilical cord during pregnancy.
Failure to plan and schedule a cesarean section procedure when the size of a baby prevents it from safely passing through the birth canal.
Making negligent and unreasonable errors when using instruments such as vacuum and/or forceps while delivering a baby (using them when not necessary or not using them when necessary).

Brain bleeds

Abnormal fetal positioning during the delivery process

Being born with a low birth weight

Mothers having infections that spread to their children

Meconium aspiration syndrome

Arrested or prolonged laboring processes

When the mother experiences a uterine rupture

When a uterine tachysystole occurs

When babies are born prematurely

When placental abruption occurs

Periventricular leukomalacia (PVL)
Although these conditions do not always guarantee that your child will develop Cerebral Palsy, it is important to note that these and other preventable conditions can cause this disabling condition if the doctor, nurse, or attending physician is negligent. It is crucial to contact a Dallas Cerebral Palsy lawyer as soon as possible to discuss legal options available to you.
Regardless of the reason for the development of the condition, you should also be aware of the three main types of cerebral palsy:
Spastic cerebral palsy – This is the most common type of cerebral palsy and accounts for approximately 80 percent of the CP diagnoses. Patients with this type of cerebral palsy have great difficulty moving, and suffer from stiffness because of tightness that exists in one or more muscle groups. They may also find it difficult to hold onto and release objects.
Athetoid cerebral palsy – This type of cerebral palsy accounts for about 10 percent of all cases of CP. Patients usually experience involuntary movement, slurred speech, problems swallowing, low muscle tone, and are incapable of maintaining posture
Ataxic cerebral palsy – Ataxic cerebral palsy account for the remaining 10 percent of cases. These patients usually suffer from problems with depth perception, tremors, difficulty coordinating movements of the muscles, and a distorted sense of balance.
Symptoms of Cerebral Palsy
Babies who suffer from Cerebral Palsy often exert a multitude of signs and symptoms. Although there is no single symptom that indicates a child has Cerebral Palsy, a combination of symptoms should be analyzed to determine if the condition is present and the severity. Some of the common signs and symptoms of Cerebral Palsy include:
Children who have low birth weights

Children with low APGAR scores

Diminished crying after birth

Children who experience seizures after birth

Feeding problems

Problems with breathing

Those who have unusually large or small head circumferences

Babies who have difficulties regulating their body temperatures

Those who experience hypotonia

Those who experience hypertonia

Babies who suffer from anemia after birth

Babies who have metabolic acidosis
There are a variety of behavioral indications of Cerebral Palsy as well. These can include any of the following:
Children who have poor coordination and balance

Those who suffer from spasms and involuntary movements

Those who have problems bringing their hands together

Children who have problems manipulating objects

Children who tend to favor one side of the body over the other

Those having the inability to reach developmental milestones

Children who experience speech and language problems

Children who have difficulties swallowing

Children who drool excessively

Those who are unable to see or hear correctly

Suffering from cognitive impairments

Children experiencing behavioral and emotional problems

Children who have more reflex problems

And those suffering from incontinence
There are some cases where therapy can help children suffering from Cerebral Palsy. However, there is no guarantee that children will ever fully gain the ability to function without assistance. Many families have a difficult time paying for the costly and continual care their children need, which makes it imperative for them to consult with a legal team as soon as possible to see what legal options are available to them.
Getting help for cerebral palsy caused by medical malpractice.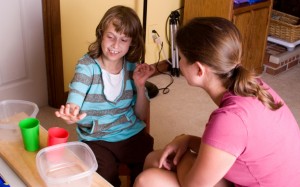 Cases of cerebral palsy that result from birth injuries and delivery errors can be quite complex from both the legal and medical perspectives. This is usually because there are highly-technical issues of treatment and questions about liability.
Attorney Jeff Rasansky and his team of experienced birth injury lawyers have the knowledge and expertise and may be able to help you receive compensation for your child's injury, ensuring you are able to provide the best, lifelong care your child deserves.
Notable verdicts and settlements.
Some of Mr. Rasansky's most-notable cerebral palsy recoveries include:
Hamilton v. Baylor Hospital et al., which at the time (2001) was the largest reported settlement in a Texas medical malpractice case.
Jeff negotiated a settlement of more than $10 million in a case where an infant suffered catastrophic impairment while receiving medical treatment.
Jeff represented two other children where he obtained a recovery of $4.5 million dollars for one, and another $2 million dollars for the other.
Jeff also won a malpractice lawsuit on behalf of the family of a newborn infant who suffered a severe brain injury after labor and delivery.
Still unsure if Rasansky Law Firm is right for you? Take some time to read the free books and reports which Jeff Rasansky has written on the subject of cerebral palsy:
[list style="book1″ color="accent1″]
At Rasansky Law Firm, we always make the client our #1 priority. Our Dallas cerebral palsy lawyers will work with you in order to develop a strong case, and we will fight aggressively for every penny your child deserves. Even if you just want to discuss the details of your situation, give us a call at (214) 651-6100 for a free, no-obligation consultation.
Speak With a Dallas Cerebral Palsy Attorney For Free
Seeing your baby struggle with any type of impairment, injury, or medical condition can be devastating, especially when it could have been prevented.. The mental and emotional impacts that families are forced to bear often affect their health and wellbeing. In numerous cases, children with Cerebral Palsy experience significant delays in both mental and physical development. This condition greatly impacts their health and quality of life. Although there are a variety of causes of Cerebral Palsy, far too many babies sustain this life-changing condition as a result of medical malpractice. If your baby sustained a birth injury that developed into Cerebral Palsy, as a result of a negligent nurse, doctor, or medical professional, it is imperative that you seek legal guidance from a qualified and knowledgeable Cerebral Palsy attorney in Dallas. You may have legal options available to help your family move forward from the incident.
The Dallas medical malpractice attorneys at Rasansky Law Firm have decades of experience fighting on behalf of injured Texans and their families. Our attorneys strive to help victims protect their legal rights and maximize their recoveries after being harmed. We truly understand the overwhelming consequences victims and their families are forced to endure after babies suffer Cerebral Palsy and the impact it can have on them throughout their entire lives. Not only does this condition prevent babies from thriving and living a normal life, they often leave children in need of constant care. It is crucial that you protect your legal rights and get the compensation you need for both immediate and long-term care.
The attorneys at Rasansky Law Firm are happy to speak to you about your potential case free of charge. If we can help with your claim, we'll do so at no out-of-pocket cost to you. Call us 24/7 at (214) 651-6100, or toll-free at (214) 651-6100.