Electric scooters are more dangerous than they look! Multiple accidents have been reported already, less than a month after the deployment of rentals in Dallas.
Convenience can come with a price. When it comes to electric scooters, that price can come in the form of accidents, injuries, and even deaths.
Although reliable statistics are not yet available, widespread reports indicate the incidence of electric scooter accidents in Dallas is rapidly increasing with the arrival of electric scooter rental offered by Bird and Lime.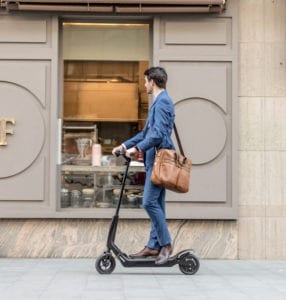 Electric scooters are inherently dangerous for a number of reasons including:
Scooters, like motorcycles and bicycles, provide absolutely no frame protection for the rider
Scooters are nearly invisible on the road
Scooters are unstable – the wheels lock easily, and road obstacles such as potholes can throw the rider into the street.
Riders are often inexperienced
Common Causes of Electric Scooter Accidents
There are many causes that contribute to electric scooter accidents but after a while, scooter accidents start to look similar because most of them fall into a few categories:
Scooter defects (such as Brakes locking up, etc.)
Reckless driving while crossing intersections
Pedestrians hit by scooters
Riders being hit by other vehicles
Road hazards
Riding double
Riding on sidewalks
Extremely low visibility
Instability
Inexperienced riders
Trip and falls caused by improperly parked scooters
Potential Scooter Accident Injuries
Potential injuries you could receive from a scooter accident can vary greatly. Those injuries can include:
Broken bones
Mild to severe concussions
Cuts and bruises
Wrist and/or arm injuries
Ankle and/or leg injuries
Neck injuries
If you have an accident with a motor vehicle, your scooter accident injuries could potentially be much worse, and even include death.
7 Tips for Riding Electric Scooters Safely
Learn the operations and functions by reading the online manual.
Despite the straight forward functionality of electric scooters, riders should be fully aware how the vehicle works
Check that the scooter is functioning properly before you take off at full steam.
Locate and test the the brakes, adjust the handlebars, check the battery charge
Practice.
Before hitting the streets of Dallas with all the traffic, get acquainted with the electric scooter, making sure you know where the brakes are and how quickly they will stop you. Practice different riding scenarios in a safe area before getting onto Downtown Dallas' busy streets.
Wear safety gear.
Even seemingly insignificant bumps on the head can cause cause lasting damage to our brains. Wearing a helmet can lessen the chance of serious brain injury from an electric scooter accident. To add bodily protection , consider wearing knee and elbow pads too.
Follow all traffic laws and know where you are supposed to ride.
A city ordinance requires that scooters need to stay on the street. They're not allowed on sidewalks or city trails. Accidents of pedestrians being hit by scooter riders on sidewalks and street crossings have already been reported in the local news.
Ride proactively.
Always ride in designated lanes. Because of your small size, in comparison, car and truck drivers may miss seeing you.
One rider per scooter at a time.
Electric scooters are not made for two people to ride at the same time. The added weight can lead not only to difficulty balancing, but can also break the scooter.
---
Electric Scooter Personal Injury Claim
Electric scooter rental is new in Dallas but we're already seeing injury accidents on our streets. The potential for serious injury is high in an electric scooter accident due to the lack of bodily protection. Scooter accidents can range from a scooter malfunction, a pedestrian being hit by a rider, a rider being hit by another rider or vehicle, potholes, and more. If an accident is caused due to the negligence of the other party, a personal injury claim can arise in your favor and you may be able to recover compensation for you injuries.
Wrongful Death Claim
In the case of a fatal accident, Texas wrongful death law allows some family members of the deceased to file a wrongful death lawsuit. Damages can include compensation for:
Mental anguish
Loss of care, support, guidance, counsel, love, and companionship
Loss of earning capacity
Loss of inheritance
Loss of household services
If you or a loved one has been in an electric scooter accident and sustained serious injury, Take action! Contact one of our experienced personal injury attorneys at Rasansky Law Firm. We offer our clients a FREE case evaluation and there is never any up-front, out-of-pocket expense to you. We work strictly on a contingency basis. We've helped a countless number of clients get the injury compensation they deserve.
Speak With a Dallas Personal Injury Lawyer For Free
The attorneys at Rasansky Law Firm are happy to speak to you about your potential case free of charge. If we can help with your claim, we'll do so for no out-of-pocket cost to you. Call us 24/7 at (214) 651-6100, or toll-free at (214) 651-6100.