It's prime season for amusement and water parks and the Texas State Fair is right around the corner. As fun as they are, amusement park and carnival rides can be dangerous. We trust the owners of these facilities to keep their rides safe, but that isn't always the case.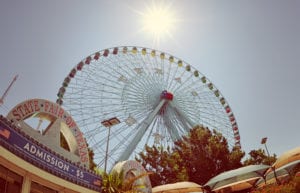 Breaking News
While this blog was being written, another amusement park accident occurred on a roller coaster at the Daytona Beach Boardwalk. Nine people were taken to the hospital, two of whom were seriously injured after plunging 34 feet when their car derailed. The coaster in question had been put out of service twice in the past 18 months due to safety concerns.
Amusement Parks in the Dallas Metroplex
Going to an amusement park or carnival is a popular summer activity. In fact, every year these establishments receive hundreds of millions of visits. It's not difficult to understand why. After all, amusement park rides are thrilling, exhilarating and downright fun. But there is a dark side to the amusement park industry that you might discover only after you or your loved one suffers a serious injury.
The Dallas area offers an astounding selection of amusement parks of various types, including:
Six Flags Over Texas
Six Flags Hurricane Harbor
Zero Gravity Thrill Amusement Park
Adventure Landing Dallas
Trinity Forest Adventure Park
Bahama Beach Waterpark
Celebration Station
Dallas King Spa & Waterpark
Rowlett Wet Zone
Hawaiian Falls
Splash Factory
Texas State Fair
Adventure Landing Dallas
Bahama Beach Waterpark
Sandy Lake Amusement Park
NRH2O Family Water Park
Trinity Forest Adventure Park
SpeedZone Dallas
Unfortunately, most of these establishments have seen injury accidents at some point or another.
Amusement Park Safety Supervision
Despite the enjoyment generated by amusement parks, many of the rides are deceptively dangerous. The International Association of Amusement Parks and Attractions, an industry advocacy group, admits to about 1,200 ride-related injuries nationwide in 2016.
Amusement park safety is shockingly unregulated in Texas. Although state law grants the Texas Department of Insurance general authority to enforce safety regulations for the amusement park industry, much of the actual oversight is delegated to insurance companies.
Fortunately, amusement parks are required to carry insurance. In order to obtain and maintain coverage, they must (i) submit to periodic inspections and (ii) file a Quarterly Injury Report with the Texas Department of Insurance. Inspections are normally carried out by the insurance company, not the government, although Texas law requires amusement parks to submit to spot inspections by state government officials.
The Texas Department of Insurance publicly recently released its Amusement Ride Injury Report, which summarizes individual Quarterly Injury Reports across the amusement park industry. The results are disturbing to say the least 75 amusement park injury reports were recorded in Texas for 2017, more than one accident per week. The report does not even include injuries treated on-site.
Amusement Park Injuries
There are many different types of injuries that can occur on amusement park rides, including:
Whiplash
Lacerations
Cerebral hemorrhage
Retinal hemorrhage
Subdural hematoma
Headache
Dizziness
Loss of consciousness
Broken bones
Drowning
Electrocution
Paraplegia
Internal injuries
Traumatic brain injury
Spinal cord injuries
Death
When you enter an amusement park, you are trusting its owners and operators to ensure a reasonably safe environment for you and your family to enjoy. On rare occasions the pre-existing medical vulnerability of a passenger can combine with the inherent danger of a certain ride to produce an injury, and that isn't anyone's fault. However, most often, an accident that causes injury is someone's' fault.
Generally speaking, if the accident wasn't your fault and the ride wasn't inherently dangerous, the park's owners or operators, or the manufacturers of defective equipment, are to blame. There are several common ways that amusement park accidents happen, including:
Improper operation of the ride due to employee negligence or lack of proper training.
Mechanical malfunction, sometimes due to a manufacturing defect in a component of a ride.
Design defects in the ride itself, such as excessively rapid spinning
Your Legal Options
Depending on the circumstances, an amusement park injury claim might be based on one of the following assertions:
Negligence – The park or its employee's careless act or failure to act caused the accident.
Intentional misconduct – The company or its employee intentionally caused the accident (you were unjustly assaulted by park security, for example, or a park employee played a 'prank' that injured you).
Product liability – The accident was caused by the failure of a mechanical component that was defective and unreasonably dangerous. In this case you would probably claim against the manufacturer.
Wrongful Death – In the most unfortunate event that you lost a love one due to an amusement park or carnival accident, you may have the option of filing a wrongful death claim against the negligent party.
We Can Help.
If you or a loved one has suffered a serious injury at an amusement park, you can count on the Personal Injury Lawyers at Rasansky Law Firm to help you recover the compensation you are entitled to. Our team of eminently qualified attorneys are ready to help you fight back with every means at their disposal.
Want to know more about amusement park negligence as it relates to your injury case? Give us a call right now at (214) 651-6100 to learn more about your legal options, as well as how we may be able to help you on a no-win no-fee basis.
Speak With a Dallas Amusement Park Injury Lawyer For Free
The attorneys at Rasansky Law Firm are happy to speak to you about your potential case free of charge. If we can help with your claim, we'll do so for no out-of-pocket cost to you. Call us 24/7 at (214) 651-6100, or toll-free at (214) 651-6100.