Was your car accident caused by a tire blowout, tread separation, or otherwise defective tire?
Call the Dallas accident attorneys at Rasansky Law Firm today at (214) 651-6100 to discuss the facts of your case, and let us explain the options available to you moving forward for no cost.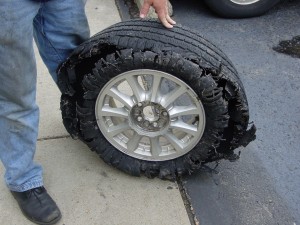 Tires are a vehicle's only points of contact with the road. There's a lot of engineering that goes into the design of a tire, and it's extremely important that you make sure that your vehicle is fitted with the correct tires, that they are properly inflated, and have plenty of tread left.
When a tire fails and causes a car accident, you may be left wondering if the manufacturer (e.g. Goodyear, BFGoodrich, Firestone, Michelin, Toyo, etc) produced a defective product. You might have concerns that the tire shop (Discount Tire, Walmart, NTB, Pep Boys, etc) negligently installed old tires or the wrong size tires altogether. Both of these scenarios are possible, and the best way to determine this is to have an attorney perform a free initial investigation into the matter.
These types of claims can be quite complex, which is why we strongly recommend discussing your potential case with an experienced attorney. Luckily, the lawyers at Rasansky Law Firm take these cases on contingency, meaning you never have to risk a penny of your own money to pursue your claim.
Even if you're unsure whether or not your accident was caused by a defective tire, a nail in the road or something else, our law firm can investigate the facts of your case for no charge.
It's not uncommon for tire shops to store tires for long periods of time, leading to their deterioration before installing them onto a vehicle. It's also very likely that a tire has been recalled, but no recall notice was ever sent out to you. Owners are only contacted about recalls if they have registered their tires, but it's estimated that only about 10% of tires sold by independent tire dealers are ever registered.
What causes tire blowouts?
When a vehicle suffers a catastrophic tire blowout, it's often a result of tread separation (AKA detreading or delamination) at high speed. What this means is that the rubber tread layer detaches from the rest of the tire, often leading to total failure of the tire.
When a vehicle starts to wobble or vibrate while moving at speed, it's best to take your foot off the gas, pull over to the side of the road, and coast to a complete stop. Unfortunately for many drivers who've found themselves in this situation, tread separation often leads to total tire failure in the matter of a split-second. A high-speed tire failure often results in total loss of control, and can lead to a rollover accident.
If your tires were in good condition prior to the crash, it's vital that you have an attorney look into the root cause of the blowout. The police are not going to investigate the cause of your flat tire or blowout, but an attorney will (and for no charge to you). Additionally, If your car, truck or SUV suffered a blowout accident due to being fitted with the wrong kind of tires, you may even have a valid claim against the negligent body shop or tire shop.
Defective tire accidents range in severity. Let's take a look at some of the most common scenarios:
Vehicles with high centers of gravity, such as SUVs, may have their tires suffer from tread separation (or delamination), leading to a blowout. Once this happens, the vehicles becomes destabilized, making it prone to roll over. Rollover accidents are terrifying, and can result in catastrophic injuries for everyone concerned.
Tire beads are responsible for helping keep a tire in place while on the road. Should these come off on account of them not being properly reinforced, a tire may lose pressure leading to a blowout, and consequently, an accident.
Tire sidewalls are responsible for stopping air from escaping from a tire. On top of that, they help protect parts of the tire, strengthening it from outside forces. Poor manufacturing or lack of proper testing may result in the formation of bubbles or sidewall separation, unbeknownst to the car owner. Before long, strange noises, vibrations signaling tire sidewall breakdown may go unnoticed, resulting in a blowout and an accident.
During routine service at a tire center, your tires could be incorrectly installed by personnel, jeopardizing your safety. In such cases, you can file a negligence lawsuit against the service center citing that the owners breached their duty of care when servicing your vehicle.
Ozone cracking due to the exposure of tires to improper manufacturing standards leads to the formation of cracks on the surface of a tire which compromise its integrity. This can be due to improper storage by the tire maker, design or manufacturing defects, or the use of inferior materials during the making of the tire.
How to avoid a tire failure.
As a conscientious driver, it's important to do your part to prevent potential accidents caused by tire blowouts. This can be done via regular tire inspections, opting to change your tires more often than is recommended, keeping abreast of recall news in order to know if there's a tire recall affecting your vehicle, and watching out for certain signs which might signal a tire blowout is on its way.
We recommend inspecting your tires at least once a month. Check the tire pressure (which changes depending on temperature) and ensure your tires are inflated to the recommended PSI, watch out for things like cracks/blisters/bulges on the surface of your tires, as well as tread wear which looks uneven. If you experience any unexplained vibrations when driving, have your car checked by a mechanic. Don't overlook anything nor second-guess yourself. A vigilant outlook may just keep you and your loved ones safe.
Tire blowouts and product liability law.
More often than not, tire blowout cases fall under the concept of product liability. In such cases, you don't have to prove negligence, but only have to prove that the tire in your car was defective, and that it is this defect that proximately caused your car to crash, resulting in your injuries. This concept is known as strict liability, and it is different from common injury cases which require you to prove negligence.
Evidence is key in these kinds of cases. This means that you will have to act fast to get a car accident attorney to preserve any evidence which is salvageable (e.g., the tire in question, photos of the accident scene, witness testimony, etc). This evidence will enable your attorney to build a strong case, and could even help you secure an out-of-court settlement early on in the process.
Get legal help today!
If you've been in an accident that you suspect was caused by a defective tire, speak to us immediately. We'll review the facts of your case and explain the legal options available to you for no cost. If we can help with your claim, we'll carry out a full investigation and collect evidence to help build a strong case to ensure that you get the maximum amount of money damages that you deserve. You'll never have to risk a dime of your own money, as we work on contingency. Call us today at (214) 651-6100 for your free, no-commitment consultation. Thanks for choosing us, and we look forward to hearing from you.
By Jeff Rasansky
Speak With a Dallas Auto Accident Attorney For Free
The attorneys at Rasansky Law Firm are happy to speak to you about your potential case free of charge. If we can help with your claim, we'll do so for no out-of-pocket cost to you. Call us 24/7 at (214) 651-6100, or toll-free at (214) 651-6100.