Suffering serious side effects related to Zyprexa? Call our Dallas attorneys at (214) 617-1886 and let's discuss your options.
Zyprexa®, also known as Olanzapine, is an antipsychotic medication made by Eli Lily. Zyprexa has been used to treat delusions, irrational thinking, and agitation common in schizophrenia patients, as well as common bipolar symptoms.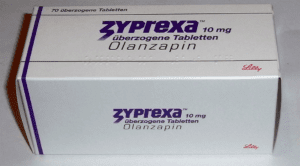 While Zyprexa is effective in most cases, it comes with a number of troubling and life-threatening side effects, such as:
Hyperglycemia, or higher than normal blood sugar levels, which may negatively impact vital organs such as the heart, liver or kidneys or even put a patient into a diabetic coma
---
Hypoglycemia, or dangerously low blood sugar levels, which can cut off energy supplies to the brain, leading to seizures and fainting spells.
---
Ketoacidosis, a condition caused by very low blood sugar. This condition makes the body harvest its own fat reserves due to low insulin, resulting in high acidity levels as well as dehydration. Ketoacidosis may threaten a patient's life if left to go on for too long.
---
Pancreatitis, which is caused to the leakage of enzymes from the pancreatic duct. Symptoms to watch out for include nausea, pain in the lower or upper back, the yellowing of the skin and eyes, and vomiting.
---
Zyprexa-associated DRESS (drug reaction with eosinophilia and systemic symptoms).
Perhaps the most serious side-effect associated with Zyprexa is a rare and systemic disorder which occurs when one takes this drug in conjunction with others. Drug Reaction with Eosinophilia and Systemic Symptoms (commonly referred to as DRESS) is a rare but deadly skin condition which has the potential to spread to other parts of the body if not caught in a timely manner.
D.R.E.S.S. first manifests itself as a rash which spreads throughout the entire body. Fever and swollen lymph glands soon follow, and then an uptick in the number of white blood cells charged with fighting infections. Swelling and inflammation are a result of this dangerous disorder, and most patients soon experience damage to organs such as the kidneys, heart, pancreas and lungs.
The FDA officially issued a warning about Zyprexa and DRESS in May of 2016, and announced that they will be adding a new warning to the drug label. Unfortunately for many, this warning came too late.
We'll fight for the justice you deserve.
If you or a loved one has suffered DRESS (or other adverse reactions) while taking Zyprexa, you and your family may be entitled to financial compensation. Our law firm takes these cases on contingency, meaning you never have to risk a penny of your own money in order to have us pursue your claim.
For more information, or to discuss the facts of your situation for free, call our drug injury lawyers at (214) 617-1886 or email us using the contact form found on this page.
Speak With Our Dallas Drug Injury Lawyers For Free
The attorneys at Rasansky Law Firm are happy to speak to you about your potential case free of charge. If we can help with your claim, we'll do so for no out-of-pocket cost to you. Call us 24/7 at (214) 617-1886.