Are you a federal employee who was retaliated against as a result of a whistleblower claim? Call us at (214) 617-1886.
The Federal Government employs tens of thousands of workers to take care of its operations across the country. Every so often, these employees may witness a violation taking place and may want to report it to the relevant authorities. However, a lot of them may stop in their tracks due to fear of retaliation or losing their jobs. This is where our law firm can help.
A Brief History of the Whistleblower Protection Act
The federal government, in conjunction with congress, passed a law that is meant to expressly protect whistleblowers, providing a safe space within which they can file confidential reports for the benefit of the American people. The Whistleblower Protection Act of 1989, which was further enhanced in 2012, lays out provisions for the reportage of illegal actions in federal offices. The act considers it illegal for your employer to threaten to take action against you or failing to resolve an illegal act as a result of your whistleblowing actions.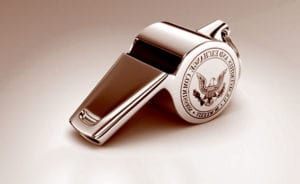 Illegal activity which prompts whistleblowing may include any one of the following:
Misappropriation of funds
Putting the health or wellbeing of the public at risk
Abuse of power and authority
Fraud
Violation of federal rules or regulations
People who would like to come forward but fear doing so may be motivated by fear. The good news is that this law has in place measures to make sure that you are reinstated in your previous position if you were fired for reporting a true violation. It even goes as far as making sure that any back pay and benefits are paid in full upon your reinstatement.
You'll also be paid consequential damages and have your legal fees taken care of as long as you show a preponderance of evidence alluding to the fact that you were indeed fired (or demoted) due to your stepping up and reporting any serious violation that you were a witness to.
What to do in order to validate your claim.
Whistleblower protection cases can be quite complex, especially if you do not have prior experience in the field. Fortunately, our law firm may be able to help you with your claim for no out of pocket costs. To learn how, call us at (214) 617-1886 to discuss the facts of your case, and the legal options available to you moving forward.
In order to file a claim, you must prove that you made a disclosure that was protected at the time of making it. You must then prove, with the help of your lawyer, that an official took action against you (demotion or dismissal). Having said that, it's important to show that the official had prior information about this protected disclosure at the time of your reporting, as well as the connection between the disclosure and the action taken.
Your complaint will first be investigated by the Office of Special Counsel to determine whether it has merit. Once this is performed, OSC may decide to take action or ask the Merit Systems Protection board to do so. Should the OSC decide that your complaint has no merit, it will close the case, after which you will have 65 days from the closure date to file an appeal (also known as an Individual Right of Action, or IRA). If the OSC fails to notify you, there's still hope; we can simply file an IRA within 120 days of your reportage.
The Whistleblower Protection Act takes these kinds of matters very seriously. On top of reinstating you with full pay, the violators may face disciplinary action in an attempt to stop similar future events from occurring.
Our attorneys can help you with your claim.
Rasansky Law Firm empathizes with the need for employees to seek just and fair compensation when it comes to Whistleblower Act claims. Please get in touch with us today by calling (214) 617-1886 for your free consultation with one of our experienced lawyers. We take cases on contingency, meaning that our firm ONLY collects a fee if we're successful in recovering you compensation.
Speak With a Dallas Whistleblower Lawyer For Free
The attorneys at Rasansky Law Firm are happy to speak to you about your potential case free of charge. If we can help with your claim, we'll do so for no out-of-pocket cost to you. Call us 24/7 at (214) 617-1886.